---
galilee
a porch or chapel at the western entrance of certain medieval churches
Origin of galilee
Middle English
galilie
from Medieval Latin
galilaea
from Classical Latin
Galilaea
, Galilee: uncertain or unknown; perhaps because, being at the less sacred western end, it was compared with the scriptural "Galilee of the Gentiles"
Galilee
lake in NE Israel, on the Syrian border: c. 13 mi (21 km) long
Origin of Galilee
Classical Latin
Galilaea
from Classical Greek
Galilaia
from Classical Hebrew (language)
hagalil
from
gelil
(
hagoyim
), literally , district (of the Gentiles)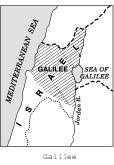 ---
galilee
noun
A small chapel or porch at the western end of a medieval English church.
Origin of galilee
Middle English
galile
from
Old North French
galilee
from
Medieval Latin
galilaea
from
Latin
Galilaea
Galilee
Galilee
A region of northern Israel. The northernmost part of Palestine and the ancient kingdom of Israel, Galilee was the center of Jesus's ministry.
---
galilee

Noun
(plural galilees)
(architecture) A narthex, particularly in the United Kingdom and the Church of England; a vestibule, a fully-enclosed yet porch-like structure, leading to the main body of an English ecclesiastical building.
Origin
From Ancient Greek Γαλιλαία (Galilaia), from Hebrew גליל (galíl).
---