verb
To entangle is defined as to become intertwined or wound up within, or cause to become involved in a difficulty.

When cords in a box get tangled around and jumbled around each other, this is an example of when they entangle.
When you get overly involved in the family disputes of your friend and have a hard time getting yourself out of the middle of their fight, this is an example of when you are entangled.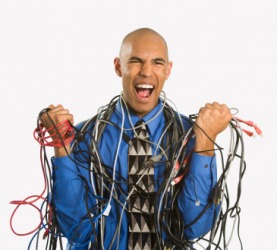 A man entangled in computer cables.
---
entangle definition by Webster's New World
transitive verb
entangled, entangling
to involve in or as in a tangle; catch, as in a net, vine, etc., so that escape is difficult; ensnare
to involve in difficulty
to confuse mentally; perplex
to cause to be tangled or confused; complicate
Webster's New World College Dictionary Copyright © 2010 by Wiley Publishing, Inc., Cleveland, Ohio. Used by arrangement with John Wiley & Sons, Inc.
---
entangle definition by American Heritage Dictionary
transitive verb
en·tan·gled
,
en·tan·gling
,
en·tan·gles
To twist together or entwine into a confusing mass; snarl.
To complicate; confuse.
To involve in or as if in a tangle. See Synonyms at catch.
Related Forms: