adjective
The definition of dynamite is a slang term for something outstanding or very dangerous.

An example of dynamite is a student bringing home a report card with all A grades.
An example of dynamite is a book getting a terrible review in the New York Times.
noun
Dynamite is defined as a chemical explosive in stick form.

An example of dynamite is what is used to blow up and demolish buildings.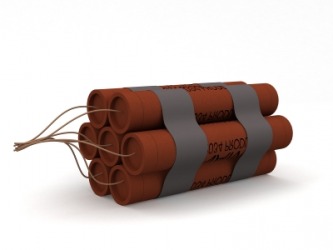 Sticks of dynamite.
---
dynamite definition by Webster's New World
noun
a powerful explosive made by soaking nitroglycerin into some absorbent, such as ammonium nitrate and wood pulp

Informal

anything potentially dangerous
Origin: coined (1866 or 1867) by Alfred Bernhard Nobel ; from Classical Greek dynamis: see dynamic
adjective
Slang
outstanding; very exciting, effective, etc.
Webster's New World College Dictionary Copyright © 2010 by Wiley Publishing, Inc., Cleveland, Ohio. Used by arrangement with John Wiley & Sons, Inc.
---
dynamite definition by American Heritage Dictionary
noun
Any of a class of powerful explosives composed of nitroglycerin or ammonium nitrate dispersed in an absorbent medium with a combustible dope, such as wood pulp, and an antacid, such as calcium carbonate, used in blasting and mining.
Slang

a. Something exceptionally exciting or wonderful.

b. Something exceptionally dangerous: These allegations are political dynamite.
transitive verb
dy·na·mit·ed
,
dy·na·mit·ing
,
dy·na·mites
To blow up, shatter, or otherwise destroy with or as if with dynamite.
To charge with dynamite.
adjective
Slang
Outstanding; superb: a dynamite performance; a dynamite outfit.
Origin: Swedish dynamit, from Greek dunamis, power; see dynamic.
Related Forms:
Word History:
The same man who gave us dynamite gave us the Nobel Peace Prize, an irony that was surely not lost on the pacifistic Alfred Nobel himself. It is perhaps less well known that Nobel also contributed the word
dynamite.
Coined in Swedish in the form
dynamit,
the word was taken from Greek
dunamis,
"power," and the Swedish suffix
-it,
which corresponds to the English suffix
-ite
used in various scientific fields. Greek
dunamis
also gave us words such as
dynamic
and
dynamo
and itself probably goes back to the verb
dunasthai,
"to be able," from which comes English
dynasty.
The American Heritage® Dictionary of the English Language, 4th edition Copyright © 2010 by Houghton Mifflin Harcourt Publishing Company. Published by Houghton Mifflin Harcourt Publishing Company. All rights reserved.
---
dynamite - Science Definition
A powerful explosive used in blasting and mining. It typically consists of nitroglycerin and a nitrate (especially sodium nitrate or ammonium nitrate), combined with an absorbent material that makes it safer to handle.