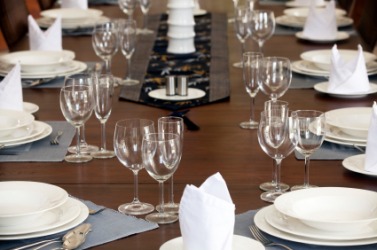 A table set for a decorous luncheon.
adjective
The definition of decorous is something done properly and with good taste.

An example of something decorous is an official luncheon for a diplomat during which the correct foods and table settings are presented.
---
decorous
characterized by or showing decorum, propriety, good taste, etc.
Origin of decorous
Classical Latin
decorus
, becoming from
decor
: see decor
---
decorous
adjective
Characterized by or exhibiting decorum; proper: decorous behavior.
Origin of decorous
From
Latin
decōrus
becoming, handsome
from
decor
seemliness, beauty
; see
dek-
in Indo-European roots.
Related Forms:
---
decorous

---