compete

com·pete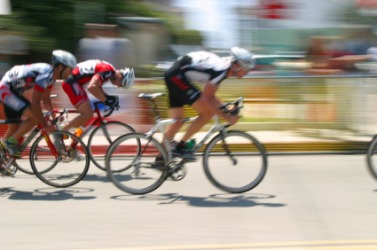 Cyclist competing in a race.
verb
The definition of compete means to be in a contest or rivalry.

Taking part in a spelling bee is an example of to compete.
Playing in a soccer tournament is an example of to compete.
---
compete
intransitive verb
-·pet′ed

,

-·pet′ing
to enter into, or be in, rivalry; contend; vie
Origin of compete
Classical Latin
competere,
to strive together for, be qualified from
com-,
together +
petere,
to rush at, desire: see feather
---
compete
intransitive verb
com·pet·ed, com·pet·ing, com·petes
To strive against another or others to attain a goal, such as an advantage or victory. See Synonyms at
rival
.
Origin of compete
Late Latin
competere
to strive together
from
Latin
to coincide, be suitable
com-
com-
petere
to seek
; see
pet-
in Indo-European roots.
---
compete

Verb
(third-person singular simple present competes, present participle competing, simple past and past participle competed)
Usage notes
A person will compete for a prize received for winning a competition. Two or more persons compete against one another if they are rivals. Two or more persons can compete with each other as teammates, however compete with is also used to indicate two persons competing against each other.
Origin
From Middle French competir or from its source Late Latin competere, present active infinitive of competō., from Latin com- ("with") + petō ("I seek, I aim for, I strive for").
See also:
competé
---