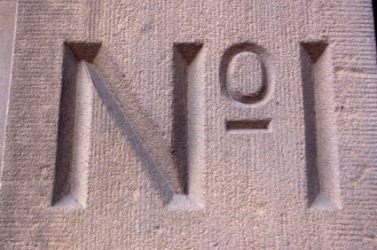 Letters chiseled into a piece of stone.
adjective
The definition of chiseled is something that has been shaped with a chisel, or a person or thing that is finely shaped.

An example of chiseled is a piece of wood that has been carved into an elephant using a chisel.
An example of chiseled is the finely shaped body form of Michelangelo's statue of David.
---
chiseled
or chiselled
adjective
cut or shaped with a chisel
finely wrought, as if shaped by a chisel
---
chiseled
or chis·elled
adjective
Made or shaped with or as if with a chisel: a finely chiseled nose.
---
chiseled
Verb
(US) simple past tense and past participle of chisel
---
chiseled
Variant of chisel
noun
a hand tool with a sharp, often wedge-shaped, blade for cutting or shaping wood, stone, etc., specif., such a tool that is driven with a mallet or hammer
Origin of chisel
Norman French (OFr
cisel
) ; from Vulgar Latin an unverified form
cisellum
, for Classical Latin an unverified form
caesellum
; from
caesus
, past participle of
caedere
, to cut: see -cide
intransitive verb
,
transitive verb
chiseled or chiselled, chiseling or chiselling
to cut or shape with a chisel

Informal

to take advantage of by cheating, sponging, etc.
to get (something) in this way
chisel in
Informal
to force oneself upon others without being asked or welcomed