facial

fa·cial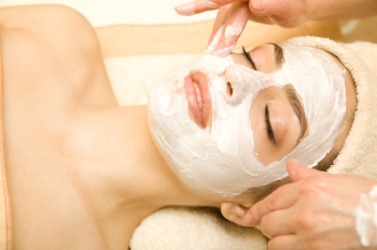 A woman receiving a facial.
adjective
The definition of facial is something related to the face.

A smile is an example of a facial expression.
noun
A facial is defined as a beauty treatment that is designed to exfoliate, invigorate or treat the skin of the face.

When you go to a salon or spa and you have a treatment done on your face that refreshes your skin, this is an example of a facial.
---
facial
of or for the face
Origin of facial
French from Medieval Latin
facialis
from Vulgar Latin
facia
, face
a treatment intended to improve the appearance of the skin of the face, as by massage, the application of creams and astringents, etc.
---
facial
adjective
Of or concerning the face: facial cosmetics; facial hair.
noun
A treatment for the face, usually consisting of a massage and the application of cosmetic creams.
Related Forms:
---
facial

Adjective
(comparative more facial, superlative most facial)
Of or affecting the face.
Noun
(plural facials)
a personal care beauty treatment which involves cleansing and moisturizing of the human face.
(slang, in some contact sports) A foul play which involves one player hitting another in the face.
(vulgar, slang) A sex act of male ejaculation onto another person's face.

He gave his wife a creamy facial.
---