baroque

ba·roque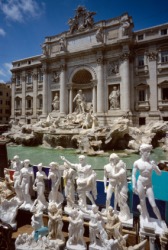 The Trevi fountain in Rome is an example of baroque art.
adjective
The definition of baroque refers to the style of music, architecture and the arts that were prevalent from 1600 to 1750.

An example of baroque isLudwigsburg Palace in Germany.
---
baroque
[oftenB-]

of, characteristic of, or like a style of art and architecture characterized by much ornamentation and curved rather than straight lines
of, characteristic of, or like a style of music characterized by highly embellished melodies and fugal or contrapuntal forms

[oftenB-] designating or of the period in which these styles flourished (c. 1600-1750)
fantastically overdecorated; gaudily ornate
irregular in shape: said of pearls
Origin of baroque
Fr, origin, originally , irregular from Portuguese
barroco,
imperfect pearl
[
often
B-
] the period of the Baroque style of art
cf. rococo
---
baroque
adjective
also Baroque Of, relating to, or characteristic of a style in art and architecture developed in Europe from the early 17th to mid-18th century, emphasizing dramatic, often strained effect and typified by bold, curving forms, elaborate ornamentation, and overall balance of disparate parts.
also Baroque Music Of, relating to, or characteristic of a style of composition that flourished in Europe from about 1600 to 1750, marked by expressive dissonance and elaborate ornamentation.
Extravagant, complex, or bizarre, especially in ornamentation: "the baroque, encoded language of post-structural legal and literary theory" ( Wendy Kaminer )
Irregular in shape: baroque pearls.
noun
also
Baroque
The baroque style or period in art, architecture, or music.
Origin of baroque
French
from
Italian
barocco
imperfect pearl
and from
Portuguese
barroco
Related Forms:
baroque
top: interior of St. Peter's Church, Vienna, Austria bottom: façade of St. Gallen Abbey, St. Gallen, Switzerland
baroque
---
baroque

Adjective
(comparative more baroque, superlative most baroque)
Origin
Via French (which originally meant a pearl of irregular shape) from Portuguese barroco ("irregular pearl"); related to Spanish barrueco and Italian barocco, of uncertain ultimate origin, but possibly from Latin verruca ("wart").
Adjective
(comparative more Baroque, superlative most Baroque)
from the Baroque period in visual art and music.
---