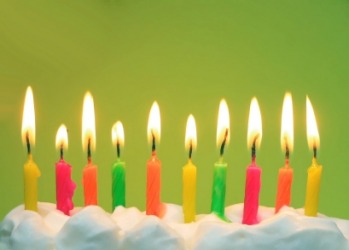 Lighted wicks on the candles of a birthday cake.
noun
The definition of wick is the waxy cord that is lit in a candle or oil lamp.

An example of wick is the white cord in the center of a candle on which the flame burns.
verb
To wick is to pull or absorb liquid.

An example of to wick is the action of a paper towel absorbing a spill.
---
wick
a piece of cord or tape, or a thin bundle of threads, in a candle, oil lamp, cigarette lighter, etc., designed to absorb fuel by capillary attraction and, when lighted, to burn with a small, steady flame
Origin of wick
Middle English
wicke
from Old English
weoca
, akin to German
wieche
, wick yarn from Indo-European base an unverified form
weg-
, to weave: see veil
to draw or absorb (water, perspiration, etc.) by capillary attraction: a fabric that wicks sweat away from the skin
a village, town, or hamlet: now archaic except as compounded (often in the form
-wich
) in place names, as in
Warwick, Greenwich
Origin of wick
Middle English
wik
from Old English
wic
, akin to Middle High German
wich
, village from early West Germanic borrowing from Classical Latin
vicus
, group of houses: see eco-
---
wick
noun
A cord or strand of loosely woven, twisted, or braided fibers, as on a candle or oil lamp, that draws up fuel to the flame by capillary action.
A piece of material that conveys liquid by capillary action.
tr. & intr.v.
wicked, wick·ing, wicks
To convey or be conveyed by capillary action: water gradually wicking up through the bricks.
Origin of wick
Middle English
wike
from
Old English
wēoce
---
wick

---