adjective
The definition of venomous is a snake or other animal that can transmit or inject dangerous serum, or a person or behavior that is mean, malicious or spiteful.

A boa constrictor is an example of a venomous snake.
A person who spreads untrue gossip just to be mean is an example of someone who is venomous.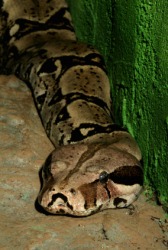 The boa constrictor is a venomous snake
---
venomous definition by Webster's New World
adjective
containing or full of venom; poisonous
malignant; spiteful; malicious

Zool.

having a poison gland or glands and able to inflict a poisonous wound by biting or stinging
Origin: Middle English venimous ; from Old French venimeux
Webster's New World College Dictionary Copyright © 2010 by Wiley Publishing, Inc., Cleveland, Ohio. Used by arrangement with John Wiley & Sons, Inc.
---
venomous definition by American Heritage Dictionary
adjective
a. Secreting and transmitting venom: a venomous snake.

b. Full of or containing venom.

Malicious; spiteful: a venomous remark. See Synonyms at poisonous.
Related Forms: