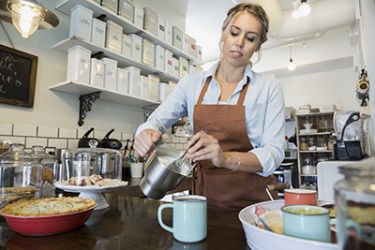 Customers can't resist the sensuous aromas of freshly baked pies and coffee when they enter Traci's Bake Shop & Café.
adjective
The definition of sensuous is relating to or affecting the senses.

An example of something sensuous is the smell of apple pie.
---
sensuous
of, derived from, based on, affecting, appealing to, or perceived by the senses
readily susceptible through the senses; enjoying the pleasures of sensation
Origin of sensuous
from Classical Latin
sensus
, sense + -ous
---
sensuous
adjective
a. Relating to or involving gratification of the senses: sensuous enjoyment; sensuous music.

b. Sexually attractive.

Relating to or affecting the senses; sensory: direct, sensuous experience of the world.
Related Forms:
sen′su·os′i·ty sen′su·ous·ness

noun
---
sensuous

Origin
From Latin sensus ("sense") + English -ous.
---