residual

re·sid·u·al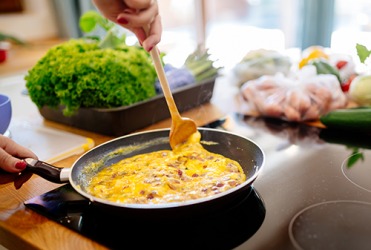 To avoid overcooked scrambled eggs, turn the burner off and use the residual heat to finish the cooking process while the eggs are still a little runny.
adjective
Residual is defined as things that remain or that are left over after the main part of something is gone.

Money left over after you've spent most of your paycheck on rent and necessities is an example of residual income.
noun
The definition of a residual is something left over after other things have been used, subtracted or removed.

An example of residual is the paint which left over after all the rooms in a house have been painted.
---
residual
of, or having the nature of, a residue or residuum; left over after part or most is taken away; remaining
Origin of residual
see residue and -al
what is left at the end of a process; something remaining
the fee paid to a performer for each rerun of filmed or taped material, as on television: often used in pl.

Geol.

monadnock

Math.

the difference between an actual value of some variable and a mean or other estimated value
---
residual
adjective
Of, relating to, or characteristic of a residue.
Remaining as a residue.
noun
The quantity left over at the end of a process; a remainder.
often residuals A payment made to a performer, writer, or director for each repeat showing of a recorded television show or commercial.
Related Forms:
---
residual

Adjective
(not comparable)
Of, relating to, or remaining as a residue; left over.
Noun
(plural residuals)
A remainder left over at the end of some process.
---
residual - Legal Definition
adj
A leftover; remainder; a residue.
---