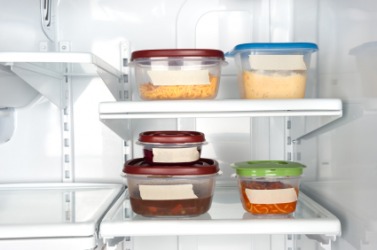 Leftovers stacked neatly in the refridgerator.
noun
The definition of leftover is something that remains after an initial serving or after initial selections have been made.

An example of a leftover is the portion of food that remains after dinner has been served that you put into the fridge to snack on the next day.
---
leftover
something left over
[usually pl.] food left over from one meal and, often, eaten at a later meal
remaining unused, uneaten, etc.
---
leftover
adjective
Remaining as an unused portion or amount.
noun
A remnant or an unused portion.
leftovers Food remaining from a previous meal.
---
leftover

Adjective
(not comparable)
(chiefly in the plural, usually of food) Remaining after a meal is complete or eaten for a later meal or snack.

I have some leftover spaghetti in the fridge, so I don't plan to cook tonight.
Not leftovers again.
Usage notes
When used after a verb (as part of a predicate phrase), use two separate words:

I can walk for miles and still have energy left over.
---