renown

re·nown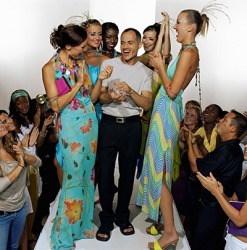 After three decades as a clothing designer, Henrick had reached a level of renown in the fashion world.
noun
Renown is fame or celebrity status.

An example of a renown person is someone being recognized by everyone who sees them in public.
---
renown
great fame or reputation; celebrity

Obs.

report or rumor
Origin of renown
Middle English
renoun
from Anglo-French from Old French
renom
from
renommer,
to name again or often, make famous from
re-,
again +
nom(m)er,
to name from Classical Latin
nominare
from
nomen,
name
---
renown
noun
The quality of being widely known or acclaimed; fame.
Obsolete Report; rumor.
Origin of renown
Middle English
renoun
from
Anglo-Norman
from
renomer
to make famous
re-
repeatedly
(
from
Latin; see
re-
. )
nomer
to name
(
from
Latin
nōmināre
) (
from
nōmen
nōmin-
name
; see
nō-men-
in Indo-European roots.)
---
renown

Origin
Old French renon, from re- + non ("name")
---