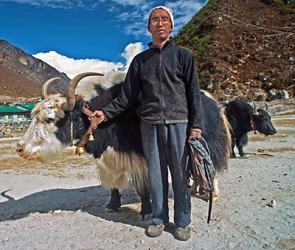 The sherpa is an experienced guide leading groups on climbs of Mt. Everest.
noun
The definition of a Sherpa is a Tibetan person living on the south side of the Himalaya Mountains in Nepal who has excellent skills at climbing mountains.

An example of a Sherpa is a skilled Tibetan mountain climber with endurance at high altitudes.
---
Sherpa
pl.

-·pas

or

-·pa

a member of a Tibetan people living on the S slopes of the Himalaya Mountains in Nepal, known for their endurance at high elevations and often serving as guides for foreign mountain climbers
[s-] a fabric with a woolly pile of polyester, cotton, etc., often used for linings of winter clothing
---
Sherpa
noun
pl.
Sherpa,
or
Sher·pas
A member of a traditionally Buddhist people of Tibetan ancestry living on the southern side of the Himalaya Mountains in Nepal and the Indian state of Sikkim. In modern times Sherpas have achieved renown as high-altitude porters and expert guides on Himalayan mountaineering expeditions.
---
sherpa

Verb
(third-person singular simple present sherpas, present participle sherpaing, simple past and past participle sherpaed)
Origin
The verb derives from the noun.
Proper noun
(uncountable)
The Southern Tibetan language of this group.
---