rehearsal

re·hears·al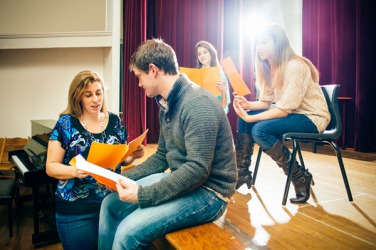 The actors in the play met one last time for a final dress rehearsal before the live performance.
noun
The definition of a rehearsal is a practice session or practice performance done prior to a real event or before viewing by an audience.

When actors who are putting on a play get together every day to go over their lines and plan out how the play will be performed, these practice sessions are an example of a rehearsal.
---
rehearsal
the act of rehearsing, reciting, or recounting: a rehearsal of her troubles
a drilling or repeating for practice before future performance

a practice performance of a play, concert, etc., or of part of it, in preparation for a public or formal performance
any practice, exercise, or drill; trial
Origin of rehearsal
Middle English
rehersaille:
see rehearse and -al
in rehearsal
being rehearsed, as a play
---
rehearsal
noun
The act of practicing in preparation for a public performance.
A session of practice for a performance, as of a play.
A detailed enumeration or repetition: a long rehearsal of his woes.
---
rehearsal

Noun
(plural rehearsals)
the practicing of something which is to be performed before an audience, usually to test or improve the interaction between several participating people, or to allow technical adjustments with respect to staging to be done
---