refrigerator
re·frig·er·a·tor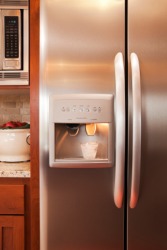 A modern refrigerator.
noun
The definition of a refrigerator is an appliance or room that is used to keep foods cool.

The place where you store your milk is an example of your refrigerator.
---
refrigerator
something that refrigerates; esp., a box, cabinet, or room in which food, drink, etc. are kept cool, as by ice or mechanical refrigeration
---
refrigerator
noun
An appliance, cabinet, or room for storing food or other substances at a low temperature.
---
refrigerator

---