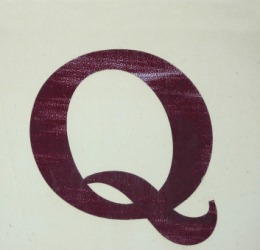 The letter Q.
noun
Q is the seventeenth letter in the English alphabet.

An example of q is the first letter in the word "question."
---
q
or Q
noun
pl.
the seventeenth letter of the English alphabet: via Latin from the early Greek koppa, a borrowing from the Phoenician
any of the speech sounds that this letter represents, as, in English words, where it is typically followed by u (except in words borrowed from Arabic), the (kw) of queen or (k) of conquer
a type or impression for q or Q
the seventeenth in a sequence or group
an object shaped like
of q or Q
seventeenth in a sequence or group
shaped like
Pharmacy

every
quart
quarter
quarterly
quarto
query
question
quintal
quire
Q
Origin of Q
q(uality factor)
Electronics
the ratio of energy stored to energy lost in a component or substance
Q
Origin of Q

Classical Latin quadrans farthing
Quebec
Queen

Chess

queen
quetzal

Rom. History

Quintus (the praenomen)
Q
---
q
or Q
noun
pl.
q's,
or
Q's
also
qs
or
Qs
The 17th letter of the modern English alphabet.
Any of the speech sounds represented by the letter q.
The 17th in a series.
Something shaped like the letter Q.
Q A hypothetical lost manuscript, consisting largely of sayings of Jesus, that is believed to have been the source of those passages in Matthew and Luke that bear close similarity to each other but not to parallel passages in Mark.
Origin of q
Sense 5, probably from
German
Q(uelle)
source
mosaic, Thanks-Giving Square
This mosaic graces a park in Dallas, Texas, designed by the architect Philip Johnson (1906-2005).
Q
abbreviation
a. quarter (of a year)

b. quarterly

Games queen
question
q.
abbreviation
quart
also Q. quarto
also q quintal
---
q

---
q - Computer Definition

One of the two letters, along with Z, that traditionally did not appear on a telephone dial or keypad. The thought was that Q could be confused with O, and that Z could be confused with 2. Q now appears with P, R, and S on number 7. Alphanumeric dialing was, and remains, a North American practice. Telephones in most other countries do not sport letters.
Q interface or Reference Point Q in ISDN. See Reference Point Q.
---
q - Legal Definition
abbr
The abbreviation used in trial transcripts and depositions to mark each question asked.
---