provost

pro·vost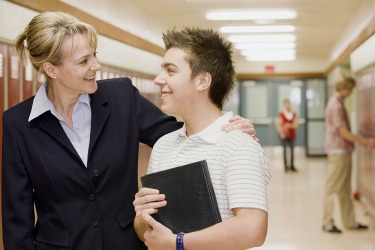 The provost encourages her students at the school that she runs.
noun
The definition of a provost is a person with authority.

An example of a provost is a school principal.
---
provost
a superintendent; official in charge
the chief magistrate of a Scottish burgh

Obs.

a jailer

Eccles.

the head of a cathedral chapter or principal church

Educ.

the head of any of certain colleges in the British Isles
in certain American universities, an administrative official dealing chiefly with faculty, curriculum, etc.
Origin of provost
Middle English from Old English
profost
and Old French
provost
, both from Medieval Latin
propositus
, for Classical Latin
praepositus
, chief, prefect, origin, originally past participle of
praeponere
, to set before, place first from
prae-
, before +
ponere
, to place: see pre- and position
---
provost
noun
A university administrator of high rank.
The highest official in certain cathedrals or collegiate churches.
The keeper of a prison.
The chief magistrate of certain Scottish cities.
Origin of provost
Middle English
from
Old English
profost
Old French
provost
both from
Medieval Latin
prōpositus
alteration of
Latin
praepositus
person placed over others, superintendent
from past participle of
praepōnere
to place over
prae-
pre-
pōnere
to put
; see
apo-
in Indo-European roots.
---
provost

Noun
(plural provosts)
(Scottish local government) The equivalent of mayor in some Scottish cities.
(higher education) A senior academic administrator; sometimes called the Vice-President of Academic Affairs.
A prison keeper, especially in the military.
Origin
From Medieval Latin prōpositus, from Latin praepositus ("placed in front").
---