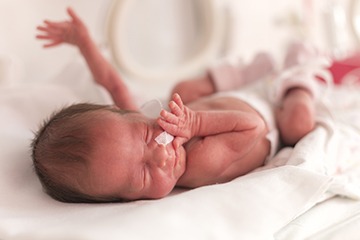 A premature baby at the hospital.
adjective
The definition of premature is something that occurs too early or before it is ready.

When you jump into something with an ill-prepared effort before you are ready, this is an example of a premature effort.
When a baby is born after just seven months of pregnancy instead of nine months, this is an example of a baby that is premature.
---
premature
happening, done, arriving, or existing before the proper or usual time; too early; specif., born before the full term of gestation
Origin of premature
Classical Latin
praematurus:
see pre- and mature
---
premature
adjective
Occurring, growing, or existing before the customary, correct, or assigned time; uncommonly or unexpectedly early: a premature end.
Born after a gestation period of less than the normal time: a premature infant.
Origin of premature
Middle English
ripe
from
Latin
praemātūrus
ripe too early
prae-
pre-
mātūrus
ripe
; see
mā-
1
in Indo-European roots.
Related Forms:
pre′ma·ture′ness pre′ma·tu′ri·ty

noun
---
premature

Adjective
(comparative more premature, superlative most premature)
Taking place earlier than anticipated, prepared for, or desired.
(informal) Suffering from premature ejaculation.
---