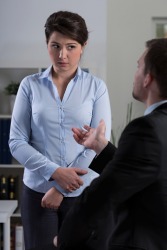 The manager's patronizing tone of voice made the new employee feel stressed.
adjective
The definition of patronizing is pretending to be nice when actually talking down to someone, or treating someone as if he or she is less intelligent.

An example of patronizing is when someone shares his opinion and you say "Oh, yes dear, very interesting, thanks" in an overly slow voice like you'd use to explain something simple.
verb
Patronizing is defined as the act of a customer going to a store or restaurant.

When you visit a restaurant, this is an example of patronizing the restaurant.
---
patronizing

Adjective
(comparative more patronizing, superlative most patronizing)
---