pallid

pal·lid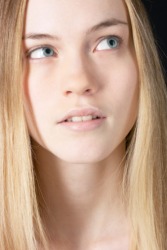 Pale skin tone
adjective
The definition of pallid is someone who is abnormally pale, especially someone lacking in color.

An example of someone who would be described as pallid is a person who is sick and who looks very pale and devoid of color.
---
pallid
faint in color; pale; wan
Origin of pallid
Classical Latin
pallidus,
pale
---
pallid
adjective
Having an abnormally pale or wan complexion: the pallid face of the invalid.
Lacking intensity of color or luminousness.
Lacking in radiance or vitality; dull: pallid prose.
Origin of pallid
Latin
pallidus
from
pallēre
to be pale
; see
pel-
1
in Indo-European roots.
Related Forms:
---
pallid

Adjective
(comparative more pallid, superlative most pallid)
Origin
From Latin pallidus.
---