noun
The definition of o is the fifteenth letter of the English alphabet.

An example of o is the first letter in the name "Obama."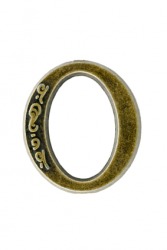 The letter O.
---
O
or O
noun
pl. O's, o's
the fifteenth letter of the English alphabet: from the Greek omega and omicron, both borrowed from the Phoenician
any of the speech sounds that this letter represents, as, in English, the vowel (ō) of boat, (ä) of hot, or (ô) of wrong
a type or impression for o or O
the fifteenth in a sequence or group
an object shaped like
adjective
of o or O
fifteenth in a sequence or group
shaped like ; circular or oval in shape
noun
pl.
O's
popularly

the figure zero; nought: in printed matter, zero is usually differentiated from the letter O, as in this dictionary: "O" is the character used for the letter, "0" is the character used for the number
a blood type
interjection
used in direct address: O Lord!
used to express surprise, wonder, fear, pain, etc.: now usually oh
used at the end of a line in some ballads
noun
pl.
O's
an instance of this exclamation
Ocean
October
Ohio

Physics

ohm

Linguis.

Old: OFr
Ontario

Baseball

out(s)

Origin of O

Classical Latin octarius

Pharmacy

pint
ortho- (sense ): usually italicized and hyphenated in chemical names
forming slangy, intensive counterparts of adjectives, nouns, and interjections: cheapo, freako
forming slang nouns from adjectives: weirdo, sicko
Origin of -o
clipped ; from words ending in
-o
(e.g. hippo, steno, gringo)
forming compound words: a connective vowel originally used for combining Greek elements only, but now used freely: sadomasochism, meritocracy
descendant of: used in Irish surnames: O'Reilly
Origin of O'-
Irish ō, descendant
---
O
or O
noun
pl.
O's
o's
or
O's
also
os
or
Os
The 15th letter of the modern English alphabet.
Any of the speech sounds represented by the letter o.
The 15th in a series.
Something shaped like the letter O.
O One of the four major blood groups in the ABO system. Individuals with this blood group have neither A nor B antigens on the surface of their red blood cells, and have both anti-A and anti-B antibodies in their blood serum.
A zero.
brass marker, Bourbon Street
Named for the royal house ruling France when New Orleans was founded in 1718, Bourbon Street runs through the heart of the city's French Quarter.
interjection
Used before the name of or a pronoun referring to a person or thing being formally addressed: "How can I put it to you, O you who prepare to travel with important matters on your mind?" (Jo Durden-Smith).
Used to express surprise or strong emotion: "O how I laugh when I think of my vague indefinite riches" (Henry David Thoreau).
abbreviation
Sports

a. offense

b. offensive

office telephone number
Baseball out
outside
outstanding
Sports overtime
abbreviation
Latin octarius (pint)
also O. octavo
suffix
Used to form an informal, abbreviated, or slang word or variant: ammo.
Origin of -o
Perhaps from
oh
1
and from shortenings such as
hippo
.
Used as a connective to join word elements: acidophilic.
Origin of -o-
Middle English, from Old French, from Latin, from Greek,
thematic vowel of nouns and adjectives used in combination
.
preposition
Informal
Of: lots o' luck; top o' the morning.
Origin of o'
Middle English
o, a
, shortening of
of
; see
of
.
---
O
---
o - Computer Definition
Ohm.The ASCII symbol for ohm.The preferred symbol is , but it doesn't print easily with some software programs.
O+ (O positive).The most common blood type. Give blood, please. Assuming that the technician is skilled and the equipment is properly sterilized, it doesn't take long, it doesn't hurt, and it doesn't make you ill, but it may very well save a life.
---
O
Variant of o
or O
noun
pl. O's, o's
the fifteenth letter of the English alphabet: from the Greek omega and omicron, both borrowed from the Phoenician
any of the speech sounds that this letter represents, as, in English, the vowel (ō) of boat, (ä) of hot, or (ô) of wrong
a type or impression for o or O
the fifteenth in a sequence or group
an object shaped like
adjective
of o or O
fifteenth in a sequence or group
shaped like ; circular or oval in shape