murder

mur·der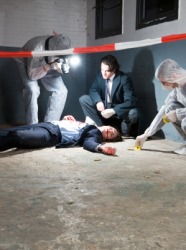 Police investigate the scene of a murder.
noun
Murder is defined as the illegal, pre-planned killing of one person by another, or an unpleasant task or to something that causes pain or discomfort to the body.

An example of murder is the killing of one person by another.
When bending up and down a lot hurts your back, this is an example of a time when you might say that bending is murder on your back.
When you are doing a very unpleasant and labor-intensive job, this is an example of a time when you might say "this job is murder."
verb
To murder is to kill someone.

When you plan and execute the death of your enemy, this is an example of murder.
When you spend too much money and your spouse gets really mad, this is an example of a time when you might say "my husband will murder me if he finds out how much I spent!"
---
murder
the unlawful and malicious or premeditated killing of one human being by another; also, any killing done while committing some other felony, as rape or robbery

Informal

something very hard, unsafe, or disagreeable to do or deal with
Origin of murder
Middle English
murthir, mordre
from Old English and OFr: Old English
morthor,
akin to Old Norse
morth
, Gothic
maurthr;
Old French
mordre
from Frankish an unverified form
morthr:
all ultimately from Indo-European an unverified form
m?tóm
from base an unverified form
mer-
from source mortal
to kill (a person) unlawfully and with malice
to kill inhumanly or barbarously, as in warfare

Informal

to spoil, mar, etc., as in performance: the song was murdered by the singer
get away with murder
Informal
to escape detection of or punishment for a blameworthy act
murder will out
a murder or murderer will always be revealed
any secret or wrongdoing will be revealed sooner or later
Origin of murder
proverbial
scream bloody murder
Informal
to yell or otherwise raise a loud disturbance, as from outrage or fear
---
murder
noun
a. The killing of another person without justification or excuse, especially the crime of killing a person with malice aforethought or with recklessness manifesting extreme indifference to the value of human life.

b. An instance of such killing.

Slang Something that is very uncomfortable, difficult, or hazardous: The rush hour traffic is murder.
A flock of crows.
verb
mur·dered, mur·der·ing, mur·ders
verb
transitive
To kill (another human) in an act of murder.
To kill brutally or inhumanly: Thousands of civilians were murdered in the bombardment.
To put an end to; destroy: murdered their chances.
To spoil by ineptness; mutilate: a speech that murdered the English language.
Slang To defeat decisively; trounce.
verb
intransitive
To commit murder.
Origin of murder
Middle English
murther
from
Old English
morthor
; see
mer-
in Indo-European roots.
---
murder

Noun
(countable and uncountable, plural murders)
(countable) An act of deliberate killing of another being, especially a human.

There have been ten unsolved murders this year alone.

(uncountable) The crime of deliberate killing of another human.

The defendant was charged with murder.

(uncountable, law, in jurisdictions which use the felony murder rule) The commission of an act which abets the commission of a crime the commission of which causes the death of a human.

Ryan Holle is serving life in prison for murder because he loaned his car to his housemate to go get food, his housemate instead drove three people to another house, one of those people inflicted an injury on a fourth person, and that fourth person died.
Usage notes
Adjectives often applied to "murder": attempted, unsolved, brutal, double, triple, horrible, terrible, heinous, hideous, atrocious.
Verb
(third-person singular simple present murders, present participle murdering, simple past and past participle murdered)
To deliberately kill (a person or persons).

The woman found dead in her kitchen was murdered by her husband.

(sports, figuratively, colloquial) To defeat decisively.

Our team is going to murder them.

(figuratively, colloquial) To kick someone's ass or chew someone out (used to express one's anger at somebody).

He's torn my best shirt. When I see him, I'll murder him!
Origin
From Middle English murder, murdre, mourdre "murder", alteration of earlier murthre ("murder") (see murther) from Old English morþor ("secret slaying, unlawful killing") and Old English myrþra ("murder, homicide"), both from Proto-Germanic *murþrÄ… ("death, killing, murder"), from Proto-Indo-European *mrtro- ("killing"), from Proto-Indo-European *mer-, *mor-, *mr- ("to die"). Akin to Gothic 𐌼𐌰𐌿𐍂𐌸𐍂 (maurþr, "murder"), Old High German mord ("murder"), Old Norse morð ("murder"), Old English myrþrian ("to murder") and morþ.
The -d- in the Middle English form may have been influenced in part by Anglo-Norman murdre, from Medieval Latin murdrum from Old French murdre, from Frankish *murþra "murder", from the same Germanic root, though this may also have wholly been the result of internal development (compare burden, from burthen).
---
murder - Legal Definition
n
The intentional and malicious killing of a human being.
first degree murder
Murder that is premeditated, or done during the commission of certain other felonies.
murder-suicide
Act of killing another followed by suicide, sometimes carried out in a pact, other times without the assent of the murdered person.
second degree murder
An unpremeditated murder not committed while carrying out another felony.
---