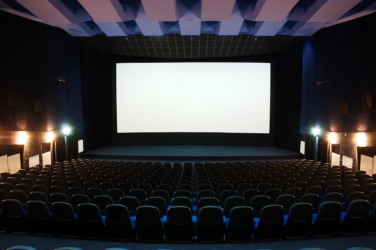 An empty movie theater.
noun
The definition of a movie is a motion picture or film produced for entertainment that tells a story.

The Wizard of Oz is an example of a movie.
---
movie
film (noun)
a showing of a film, as in a theater: I'm going to a movie tonight
Origin of movie
contr. from moving picture
the movies
the film industry
a showing of a film
---
movie
noun
a. A recorded sequence of film or video images displayed on a screen with sufficient rapidity as to create the illusion of motion and continuity.

b. Any work, as of art or entertainment, having this form, usually including a soundtrack: a movie about the cost of war.

c. The presentation of such a work: During the movie, the person in front of me kept talking.

d. A long narrative work of this form: a television channel that shows foreign movies.

movies Screenings of movies at a public theater: Would you like to go to the movies tonight?
movies The movie industry.
Origin of movie
Shortening and alteration of
moving picture
---
movie

Noun
(plural movies)
A motion picture.
(usually pluralized) A cinema.

Let's go to the movies.
---
movie - Computer Definition
A film-based or video-based motion picture. Major motion pictures are sometimes shot on film and video at the same time. Directors may prefer the effect film delivers, but video enables instant playback. In order to be transmitted or distributed electronically, movies captured on film must be scanned into a digital video format. See digital cinema, camcorder and video format.
---