interact
in·ter·act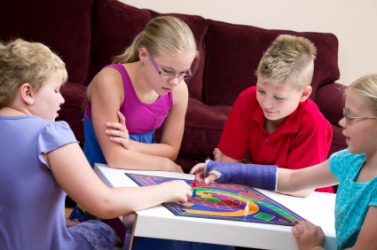 Children interact while playing a board game.
verb
Interact is defined as to engage in verbal or physical contact with someone else.

An example of interact is for two children to play a board game together.
---
interact
to act on one another; act reciprocally
to deal, work, etc. with someone or something: a politician who interacts well with members of the media
---
interact
intransitive verb
in·ter·act·ed
,
in·ter·act·ing
,
in·ter·acts
To act on each other: "More than a dozen variable factors could interact, with their permutations running into the thousands" (Tom Clancy).
---
interact
Verb
(third-person singular simple present interacts, present participle interacting, simple past and past participle interacted)
---