noun
Foliage is defined as plant or tree leaves.

An example of foliage is all of the leaves that are on the trees that change color in the fall.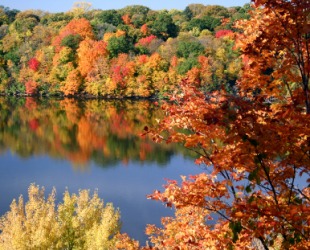 Fall foliage beside a lake.
---
foliage definition by Webster's New World
noun
leaves, as of a plant or tree; mass of leaves; leafage
a decoration consisting of a representation of leaves, branches, flowers, etc.
Origin: Middle English foilage ; from Old French feuillage ; from feuille, a leaf ; from Lfolia ; from folium: see foliate
Webster's New World College Dictionary Copyright © 2010 by Wiley Publishing, Inc., Cleveland, Ohio. Used by arrangement with John Wiley & Sons, Inc.
---
foliage definition by American Heritage Dictionary
noun
a. Plant leaves, especially tree leaves, considered as a group.

b. A cluster of leaves.

An ornamental representation of leaves, stems, and flowers, especially in architecture.
Origin: Alteration (influenced by Latin folium, leaf) of Middle English foilage, from Old French foillage, from foille, leaf; see foil2.
Related Forms: