verb
To entrust is defined as to assign responsibility for something to someone or to put your faith and trust in someone.

When you ask someone to take care of your child for you, this is an example of a situation where you entrust your child to that person.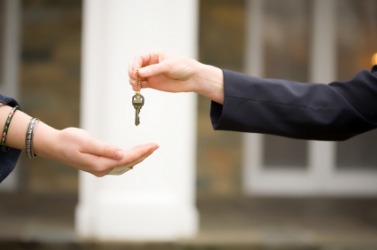 Entrust the key to me.
---
entrust definition by Webster's New World
transitive verb
to charge or invest with a trust or duty: entrust a lawyer with records
to assign the care of; turn over for safekeeping: entrust the key to me
Webster's New World College Dictionary Copyright © 2010 by Wiley Publishing, Inc., Cleveland, Ohio. Used by arrangement with John Wiley & Sons, Inc.
---
entrust definition by American Heritage Dictionary
also in·trust
transitive verb
en·trust·ed
also
in·trust·ed
,
en·trust·ing
also
in·trust·ing
,
en·trusts
also
in·trusts
To give over (something) to another for care, protection, or performance: "He still has the aura of the priest to whom you would entrust your darkest secrets" (James Carroll).
To give as a trust to (someone): entrusted his aides with the task. See Synonyms at commit.