verb
To confide is to trust someone enough to tell your secrets, worries or thoughts.

An example of confide is when you confess your secret crush to a friend.
YourDictionary definition and usage example. Copyright © 2013 by LoveToKnow Corp.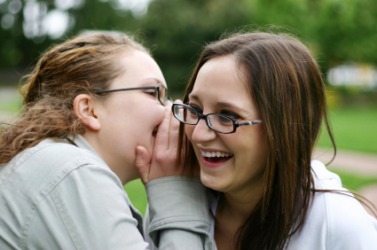 A girl confides a secret to her friend.
Licensed from iStockPhoto
---
intransitive verb
confided, confiding
to trust (in someone), esp. by sharing secrets or discussing private affairs
Origin: Classical Latin confidere ; from com-, intensive plush fidere, to trust: see faith
transitive verb
to tell or talk about as a secret: to confide one's troubles to a friend
to entrust (as a duty, object, or person) to someone
Webster's New World College Dictionary
Copyright © 2010 by Wiley Publishing, Inc., Cleveland, Ohio.
Used by arrangement with John Wiley & Sons, Inc.
---
verb
con·fid·ed
,
con·fid·ing
,
con·fides
verb
, transitive
To tell (something) in confidence: confided a secret to his friend.
To give as a responsibility or put into another's care; entrust: confided the task of drafting the report to her assistant.
verb
, intransitive
To disclose private matters in confidence:
He knew he could confide in his parents.
See Synonyms at
commit
.
Origin: Middle English, to rely on, from Old French confider, from Latin cōnfīdere : com-, intensive pref.; see com- + fīdere, to trust; see bheidh- in Indo-European roots.
Related Forms:
The American Heritage® Dictionary of the English Language
, 4th edition Copyright © 2010 by Houghton Mifflin Harcourt Publishing Company. Published by Houghton Mifflin Harcourt Publishing Company. All rights reserved.