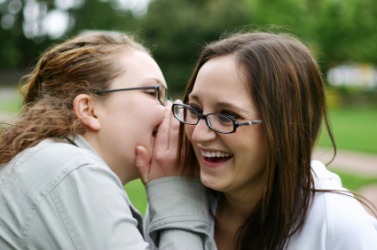 A girl confides a secret to her friend.
verb
To confide is to trust someone enough to tell your secrets, worries or thoughts.

An example of confide is when you confess your secret crush to a friend.
---
confide
intransitive verb
-·fid′ed

,

-·fid′ing
to trust (in someone), esp. by sharing secrets or discussing private affairs
Origin of confide
Classical Latin
confidere
from
com-,
intensive +
fidere,
to trust: see faith
to tell or talk about as a secret: to confide one's troubles to a friend
to entrust (as a duty, object, or person) to someone
---
confide
verb
con·fid·ed, con·fid·ing, con·fides
verb
transitive
To tell (something) in confidence: confided a secret to his friend.
To give as a responsibility or put into another's care: confided the task of drafting the report to her assistant.
verb
intransitive
To disclose private matters in confidence: He knew he could confide in his parents.
Origin of confide
Middle English
to rely on
from
Old French
confider
from
Latin
cōnfīdere
com-
intensive pref.
; see
com-
.
fīdere
to trust
; see
bheidh-
in Indo-European roots.
Related Forms:
---
confide

Verb
(third-person singular simple present confides, present participle confiding, simple past and past participle confided)
---