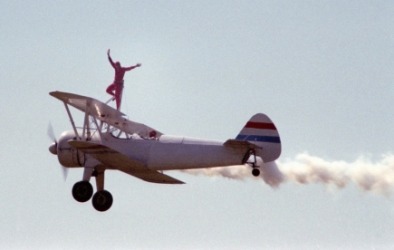 A daredevil wingwalking at an airshow.
---
daredevil
adjective
bold and reckless
noun
a bold, reckless person
one who performs dangerous stunts professionally
---
daredevil
noun
One who is recklessly bold.
adjective
Related Forms:
dare′dev′il·ry, dare′dev′il·try

noun
---
daredevil
Noun
(plural daredevils)
A person who engages in very risky behavior, especially one who is motivated by a craving for excitement or attention.

Even as a youngster, Steven was a bit of a daredevil riding up homemade wooden ramps on his BMX.
Adjective
(comparative more daredevil, superlative most daredevil)
Recklessly bold; adventurous.

The climatic scene of Rebel without a Cause is the group of very daredevil teens playing chicken.
---