Dardanelles
[där′də nelz′]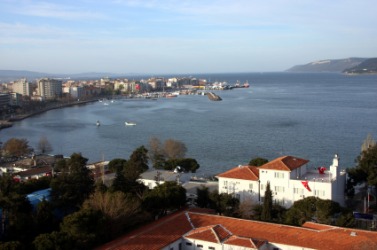 Canakkale City on the Dardanelles.
---
Dardanelles
strait joining the Sea of Marmara and the Aegean Sea, between European & Asiatic Turkey: c. 40 mi (64 km) long; 1-4 mi (1.6-6.4 km) wide
---
Dardanelles
Formerly Hel·les·pont
A strait connecting the Aegean Sea with the Sea of Marmara. An important shipping channel, it marks the conventional boundary between Asia and Europe.
---
Dardanelles
Proper noun
The strait connecting the Sea of Marmara with the Aegean Sea to the west.
---