coal

coal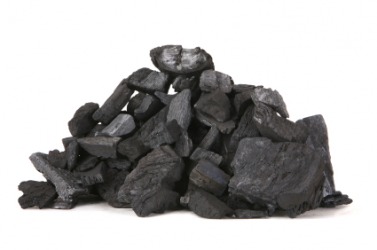 A small pile of coal.
noun
The definition of coal is a dark brown to black carbon-rich rock that is mined from mountains or below ground and is burned as fuel.

Facts About Turn Coal Into Electricity

A coal power plant works continuously to burn coal to produce electricity.

The process requires the addition of large amounts of water which is then recycled back into the process.
Coal cannot be burned efficiently in its natural form. It must be pulverized.
Hot air is added to the pulverized coal powder and it is burned. The burning coal heats a boiler which makes steam to power a generator that creates electricity.

An example of coal is the fuel used to grill meat on an outdoor grill using briquettes.
---
coal
a kind of dark-brown to black, combustible, sedimentary rock resulting from the partial decomposition of vegetable matter away from air and under varying degrees of increased temperature and pressure over a period of millions of years: used as a fuel and in the production of coke, coal gas, water gas, and many coal-tar compounds
a piece (or collectively, pieces) of this rock
a piece of glowing or charred wood, coal, or similar substance; ember
charcoal
Origin of coal
Middle English and Old English
col
, charcoal, live coal, akin to German
kohle
, Old Norse
kol
from Indo-European base an unverified form
g(e)u-lo-
, live coal from source Irish
gual
to reduce (a substance) to charcoal by burning
to provide with coal
to take in a supply of coal
haul over the coals
to criticize sharply; censure; scold
heap coals of fire on someone's head
to cause someone to feel remorse by returning good for evil: Prov. 25:22
---
coal
noun
a. A natural dark brown to black graphitelike material used as a fuel, formed from fossilized plants and consisting of amorphous carbon with various organic and some inorganic compounds.

b. A piece of this substance.

A glowing or charred piece of solid fuel.
Charcoal.
verb
coaled, coal·ing, coals
verb
transitive
To burn (a combustible solid) to a charcoal residue.
To provide with coal.
verb
intransitive
To take on coal.
Origin of coal
Middle English
col
from
Old English
---
coal

Noun
(plural coal or coals)
(uncountable) A black rock formed from prehistoric plant remains, composed largely of carbon and burned as a fuel.
(countable) A piece of coal used for burning. Note that in British English the first of the following examples would usually be used, whereas in American English the latter would.

Put some coals on the fire.
Put some coal on the fire.

(countable) A type of coal, such as bituminous, anthracite, or lignite, and grades and varieties thereof.
(countable) A smouldering piece of material.

Just as the camp-fire died down to just coals, with no flames to burn the marshmallows, someone dumped a whole load of wood on, so I gave up and went to bed.
Verb
(third-person singular simple present coals, present participle coaling, simple past and past participle coaled)
(intransitive) To take on a supply of coal (usually of steam ships).
(intransitive) To be converted to charcoal.
To burn to charcoal; to char.
To supply with coal.

to coal a steamer
Origin
From Middle English cole, from Old English col, from Proto-Germanic *kulą, from Proto-Indo-European *gʷol- (compare Irish gúal ("coal"), Tocharian B śoliye ("hearth"), Persian زغال (zuvāl, "live coal")), from *gʷelH- 'to glow, burn' (compare Lithuanian žvìlti ("to twinkle, glow"), Sanskrit ज्वलति (jvalati, "to burn, glow")).
Usage notes
This is the customary abbreviation of this term as used in case citations. See, e.g., The Bluebook: A Uniform System of Citation, Nineteenth Edition (2010), "Case Names and Institutional Authors in Citations", Table T6, p. 430-431.
See also:
coal
---
coal - Investment & Finance Definition
A dark brown to black combustible sedimentary rock that is used as a fuel source. It accounts for the generation of about 55 percent of the total electricity output in the United States. The United States has 30 percent of the world's bituminous and anthracite coal reserves, more than any other country except China, which consumes nearly all of its own production. Coal futures are traded on the New York Mercantile Exchange (NYMEX). Coal futures are a relatively new addition to the NYMEX, with trading beginning only in the late 1990s. Its trading symbol is QL.
---