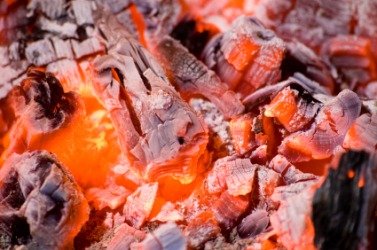 The wood in a fireplace after being reduced to cinders.
noun
The definition of a cinder is a small piece of burned wood or coal that is still sparking even though it has been mostly burned.

A small leftover piece of firewood that is still solid and burning without flame is an example of a cinder.
---
cinder
slag, as from the reduction of metallic ores
a rough piece of solid lava from a volcano
any matter, as coal or wood, burned out or partly burned, but not reduced to ashes
a minute piece of such matter
a coal that is still burning but not flaming
[pl.] ashes from coal or wood
Origin of cinder
Middle English and Old English
sinder,
dross of iron, slag from Indo-European base an unverified form
sendhro-,
coagulating fluid from source German
sinter,
dross of iron, stalactite,
sintern,
to trickle, coagulate, Czech
?adra,
gypsum
Rare

to burn to cinders
to cover with cinders
---
cinder
noun
a. A small piece of burned or partly burned substance, such as coal, that is not reduced to ashes but is incapable of further combustion.

b. A piece of charred substance that can burn further but without flame.

cinders Ashes.
cinders Geology See scoria.
Metallurgy See scoria .
Slag from a metal furnace.
transitive verb
cin·dered, cin·der·ing, cin·ders
To burn or reduce to cinders.
Origin of cinder
Alteration
(
influenced by
Old French
cendre
ashes
)
of
Middle English
sinder
from
Old English
slag, dross
Related Forms:
---
cinder

---