civilization

civ·i·li·za·tion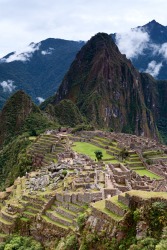 Ruins from an ancient civilization.
noun
The definition of civilization refers to a society or group of people or the process of achieving a higher state of social development.

An example of civilization is the Mesopotamian civilization.
An example of civilization is an industrial society that has arts, sciences, and machines such as cars.
---
civilization
the process of civilizing or becoming civilized
the condition of being civilized; social organization of a high order, marked by the development and use of a written language and by advances in the arts and sciences, government, etc.
the total culture of a particular people, nation, period, etc.
the countries and peoples considered to have reached a high stage of social and cultural development
intellectual and cultural refinement
the amenities, esp. creature comforts of civilized life
Origin of civilization
Medieval Latin
civilizatio
---
civilization
noun
An advanced state of intellectual, cultural, and material development in human society, marked by progress in the arts and sciences, the extensive use of record-keeping, including writing, and the appearance of complex political and social institutions.
The type of culture and society developed by a particular nation or region or in a particular epoch: Mayan civilization; the civilization of ancient Rome.
The act or process of civilizing or reaching a civilized state.
Cultural or intellectual refinement; good taste.
Modern society with its conveniences: returned to civilization after camping in the mountains.
---
civilization

Noun
(plural civilizations)
Proper noun
Collectively, those people of the world considered to have a high standard of behavior and / or a high level of development. Commonly subjectively used by people of one society to exclusively refer to their society, or their elite sub-group, or a few associated societies, implying all others, in time or geography or status, as something less than civilised, as savages or barbarians. cf refinement, elitism, civilised society, the Civilised World
---