noun
The definition of a candidate is a person who is seen as suitable for a position, who is taking a test for admission or acceptance, or who has been chosen by a political party to run for office.

An example of a candidate is President George W. Bush when he ran for President.
An example of a candidate is a person who is taking an admissions test at a private school.
An example of a candidate is someone being considered for a job.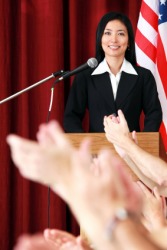 A candidate gives a speech.
---
candidate definition by Webster's New World
noun
a person who seeks, or who has been proposed for, an office, an award, etc.
a person or thing apparently destined to come to a certain end: a candidate for greatness
Origin: Classical Latin candidatus, white-robed ; from candidus (see candid): office seekers in ancient Rome wore white gowns
Webster's New World College Dictionary Copyright © 2010 by Wiley Publishing, Inc., Cleveland, Ohio. Used by arrangement with John Wiley & Sons, Inc.
---
candidate definition by American Heritage Dictionary
noun
A person who seeks or is nominated for an office, prize, or honor.
A student who has nearly completed the requirements for a degree.
One that seems likely to gain a certain position or come to a certain fate: young actors who are candidates for stardom; a memorandum that is a good candidate for the trash can.
Origin: Latin candidātus, clothed in white (from the white togas worn by Romans seeking office), candidate, from candidus, white; see candid.
Related Forms:
canˈdi·da·cy , canˈdi·da·tureˌ

noun