broth

broth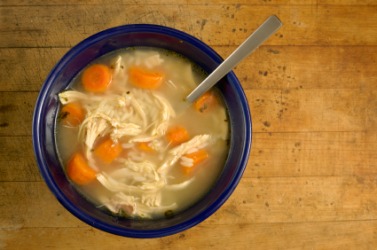 A bowl of noodles and carrots in broth.
noun
The definition of broth is a clear and thin soup made from parts of meat and/or vegetables boiled in water.

An example of broth is chicken stock.
---
broth
a clear, thin soup made by boiling meat, or sometimes cereals or vegetables, in water
Origin of broth
Middle English and OE; akin to Old High German
brod
: for Indo-European base see bread
---
broth
noun
pl.
broths,
The water in which meat, fish, or vegetables have been boiled; stock.
A thin, clear soup based on stock, to which rice, barley, meat, or vegetables may be added.
A liquid containing nutrients for culturing microorganisms: inoculated the broth with bacteria.
Origin of broth
Middle English
from
Old English; see
bhreu-
in Indo-European roots.
---
broth

Noun
(countable and uncountable, plural broths)
(countable) A soup made from broth and other ingredients such as vegetables, herbs or diced meat.
Origin
From Middle English broth, from Old English broþ ("broth"), from Proto-Germanic *bruþą ("broth"), from Proto-Indo-European *bʰerew- ("to seethe, roil, brew"). Akin to Old English breowan ("to brew").
---