noun
The definition of beckon is the gesture used to call someone over.

The wave a mother gives her child to come over to her is an example of a beckon.
verb
The meaning of beckon is to call over silently or with a gesture.

An example of beckon is the ocean calling to a surfer.
Motioning with a nod for a friend to join you is an example of to beckon.
YourDictionary definition and usage example. Copyright © 2013 by LoveToKnow Corp.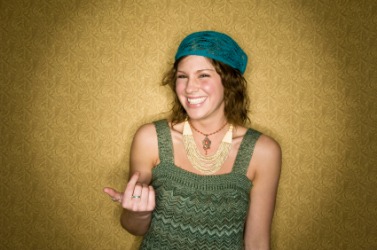 A woman beckoning with her finger.
Licensed from iStockPhoto
---
intransitive verb
,
transitive verb
to call or summon by a silent gesture
to seem enticing (to); attract; lure: the woods beckon
Origin: Middle English beknen ; from Old English beacnian, becnian; akin to Old Saxon boknian, Old High German bouhnen ; from Germanic an unverified form bauhnan ; from an unverified form baukna, beacon
Webster's New World College Dictionary
Copyright © 2010 by Wiley Publishing, Inc., Cleveland, Ohio.
Used by arrangement with John Wiley & Sons, Inc.
---
verb
beck·oned
,
beck·on·ing
,
beck·ons
verb
, transitive
To signal or summon, as by nodding or waving.
To attract because of an inviting or enticing appearance: "a lovely, sunny country that seemed to beckon them on to the Emerald City" (L. Frank Baum).
verb
, intransitive
To make a signaling or summoning gesture.
To be inviting or enticing.
noun
A gesture of summons.
Origin: Middle English bekenen, from Old English bīecnan, bēcnan; see bhā-1 in Indo-European roots.
Related Forms:
The American Heritage® Dictionary of the English Language
, 4th edition Copyright © 2010 by Houghton Mifflin Harcourt Publishing Company. Published by Houghton Mifflin Harcourt Publishing Company. All rights reserved.