battery

Bat·ter·y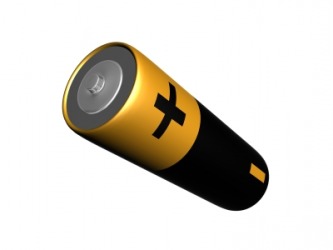 A battery that stores electrical charge.
noun
The definition of a battery is a man-made power cell used to generate electrical energy.

Facts About Batteries

The battery can be traced back to the nineteenth century, with the invention of the first Voltaic pile by Alessandro Volta.
A battery will leak when the battery gets too hot, expanding the paste inside the battery, which forces the chemicals in the battery to leak out of the seals of the battery.
Batteries may also leak if you mix the two types of batteries - standard batteries and alkaline batteries.

An example of a battery is the large, square, power unit housed near the engine of modern cars.

A battery is defined as a group of military artillery such as heavy guns or rockets.

An example of a battery is a collection of cannons attacking the same target.
---
battery
noun
pl.
-·ter·ies
the act of battering, beating, or pounding
machinery used in battering
a group of similar things arranged, connected, or used together; set or series; array: a battery of microphones, a battery of school achievement tests

Chiefly Brit.

a series of cages or other restrictive compartments used as to confine hens for intensive laying: often used attributively

Baseball

the pitcher and the catcher

Elec.

a connected group of electrochemical cells that store electric charges and generate direct current
a single cell of this type
a similar nuclear, solar, or thermal device that stores and generates electrical energy

Law

any illegal beating or touching of another person, either directly or with an object

Mil.

an emplacement for heavy guns or a fortification equipped with such guns
a set of heavy guns, rockets, etc.
the personnel who operate such guns: usually the basic unit of artillery, corresponding to an infantry company

U.S. Navy

a group of guns of the same caliber or used for the same purpose on a warship: an antiaircraft battery

Music

the percussion instruments of an orchestra
Origin of battery
French
batterie
from Old French
battre
: see batter
in battery
in firing position after recovery from the recoil of a previous discharge: said of a heavy gun
the Battery
a park in New York City, at the S tip of Manhattan: 21 acres
---
battery
noun
pl.
bat·ter·ies
Electricity A device containing an electric cell or a series of electric cells storing chemical energy that can be converted into electrical energy, usually in the form of direct current.

a. The act of beating or pounding.

b. Law The unlawful and unwanted touching or striking of one person by another, with the intention of bringing about a harmful or offensive contact.

a. An emplacement for one or more pieces of artillery.

b. A set of guns or other heavy artillery, as on a warship.

c. An army artillery unit, corresponding to a company in the infantry.

a. An array of similar things intended for use together: took a battery of achievement tests.

b. An impressive body or group: a battery of political supporters.

Baseball A pitcher and catcher considered as a unit.
Music The percussion section of an orchestra.
Origin of battery
Middle English
batri
forged metal ware
from
Old French
baterie
a beating
from
batre
to batter
; see
batter
1
.
Battery
also Bat·ter·y Park
A park at the southern tip of Manhattan Island at the upper end of New York Bay in southeast New York. It is the site of early Dutch and English fortifications and of Castle Clinton, built in 1808 for the defense of the harbor.
---
battery

Noun
(plural batteries)
A device that produces electricity by a chemical reaction between two substances .
A coordinated group of artillery.
An array of similar things.

Schoolchildren take a battery of standard tests to measure their progress.

(baseball) The catcher and the pitcher together
(chess) Two or more major pieces on the same rank, file, or diagonal
The state of a firearm when it is possible to be fired.
---
battery - Computer Definition

A connected group of (one or more) electrochemical cells that store electric charges and generate direct current (DC) through the conversion of chemical energy into electrical energy. See also common battery, DC, electricity, energy, and local battery.
---
A storage device that converts chemical energy into electrical energy. Used by the billions each year from tiny hearing aid batteries to units that some day may be 40 feet long (see illustration below), the battery is constructed of positive and negative metal electrodes. When the two electrodes are connected together by a circuit on the outside, a chemical reaction is created inside, and electrons flow from the negative electrode through an electrolyte to the positive electrode creating a voltage difference. The electrolyte material prevents the electrons from flowing until the circuit is completed on the outside. The First Battery Alessandro Volta invented the first battery in 1800 to sustain an electric current. His "voltaic pile" was a stack of cells, each containing a brine-soaked cloth sandwiched between zinc and copper discs. He got the idea from Luigi Galvani, who in the late 1700s generated current from two dissimilar metals joined together by a frog's muscle. Over time, there has been progress! See batteries.
---
battery - Legal Definition
n
The harmful or offensive touching of any part of another person's body or of something, such as clothing or carried umbrella, that is so closely attached to the person that it is customarily regarded as part of the person. The touching may be in anger or a result of some other intentional wrong. Any amount of touching is considered a battery, even if harmless, if it is offensive to the person who is touched. See also
assault
and
mayhem
.
aggravated battery
sexual battery
The forced penetration of or contact with another person's or the perpetrator's sexual organs. See also
rape
.
simple battery
A battery with no accompanying aggravated circumstances and not resulting in serious bodily injury.
---