window

win·dow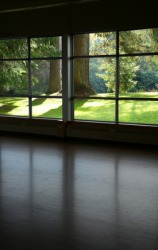 Windows looking out to a lovely garden.
noun
The definition of a window is a pane of glass or plastic in a house, car or other structure, or something you look through, either literally or metaphorically, to see what is on the other side.

An example of a window is the glass on the front or back of your house that allows you to look out.
An example of a window is the eyes, which are said to be windows to the soul because looking into someone's eyes helps you to understand the person.
---
window
an opening in a building, vehicle, or container, for letting in light or air or for looking through, usually having a pane or panes of glass, etc. set in a frame or sash that is generally movable so that it can be opened and shut
any of these panes, or the sash or sashes in their casement

any similar opening, as that before a bank teller
an opening, period of time, etc. for access: a window of opportunity

the transparent panel of a window envelope

any device put into the atmosphere to yield a perceptible radar echo, usually used for tracking an airborne object or as a tracer of wind
chaff (noun)

launch window
any portion of the frequency spectrum of the earth's atmosphere through which light, heat, or radio waves can penetrate to the earth's surface due to the low absorption or dissipation of electromagnetic energy in this particular portion

Comput.

a discrete, typically rectangular, display of data appearing on a computer screen: in many GUIs, several windows may appear side by side
Origin of window
Middle English
windoge
from Old Norse
vindauga
, window, literally , wind eye from
vindr
, wind +
auga
, an eye; akin to German
auge
, eye
to provide with a window or windows
out of the window
gone or dashed, esp. irretrievably so
---
window
noun
a. An opening constructed in a wall, door, or roof that functions to admit light or air to an enclosure and is often framed and spanned with glass mounted to permit opening and closing.

b. A framework enclosing a pane of glass for such an opening; a sash.

c. A pane of glass or similar material enclosed in such a framework: The ball broke the window.

a. An opening or transparent part that resembles a window in function or appearance: a sail window.

b. The transparent panel on a window envelope.

The area or space immediately behind a window, especially at the front of a shop: goods displayed in the window.
A means of access or observation: St. Petersburg was Peter the Great's window onto the Baltic.
An interval of time during which an activity can or must take place: a window of opportunity for a space mission; a window of vulnerability when the air force was subject to attack.
Strips of foil dropped from an aircraft to confuse enemy radar; chaff.
A range of electromagnetic frequencies that pass unobstructed through a planetary atmosphere.
Computers A rectangular area on a screen in which a document, database, or application can be viewed independently of the other such areas.
Aerospace

a. A launch window.

b. An area at the outer limits of the earth's atmosphere through which a spacecraft must pass in order to return safely.
Origin of window
Middle English
from
Old Norse
vindauga
vindr
air, wind
; see
wē-
in Indo-European roots.
auga
eye
; see
okw-
in Indo-European roots.
Word History:
The source of our word
window
is a vivid metaphor.
Window
comes to us from the Scandinavian invaders and settlers of England in the early Middle Ages. Although we have no record of the exact word they gave us, it was related to Old Norse
vindauga,
"window," a compound made up of
vindr,
"wind," and
auga,
"eye," reflecting the fact that at one time windows contained no glass. The metaphor "wind eye" is of a type beloved by Norse and Old English poets and is called a
kenning;
other examples include Old Norse
gjālfr-marr,
"sea-steed," for "ship" and Old English
hron-rād,
&;ldquo;whale-road," for "sea."
---
window

Noun
(plural windows)
An opening, usually covered by one or more panes of clear glass, to allow light and air from outside to enter a building or vehicle.
An opening, usually covered by glass, in a shop which allows people to view the shop and its products from outside.
A period of time when something is available.

launch window; window of opportunity
I have a two-hour window when my wife's out of the house if you want to come round an fool about.
Verb
(third-person singular simple present windows, present participle windowing, simple past and past participle windowed)
To furnish with windows.
To place at or in a window.

Wouldst thou be windowed in great Rome and see / Thy master thus with pleach'd arms, bending down / His corrigible neck? "" Shakespeare.
Origin
From Middle English windowe, windohe, windoge, from Old Norse vindauga ("window", literally "wind-eye", "wind-aperture", "wind-hole"), equivalent to wind +"Ž eye. Cognate with Scots wyndo, wyndok, winnock ("window"), Icelandic vindauga ("window"), Norwegian vindauga, vindu ("window"), Danish vindue ("window"), old German Windauge. The "windows" in these times were just unglazed holes (eyes) in the wall or roof that permitted wind to pass through.
---
window - Computer Definition

An opening or opportunity for passage of data frames or packets without the requirement for an acknowledgement from the receiving device. See modulo and TCP.
An opening or opportunity for passage of a range of wavelengths in a fiber optic transmission system (FOTS). For example, a laser diode might fire at 1550 nm, referring to a range of wavelengths with a nominal center point of 1550 nm. A light-emitting diode (LED) might fire at 850 nm, and a vertical cavity surface-emitting laser (VCSEL) at 1300 nm or 1310 nm. The ITU-T has established a number of standard windows, as detailed in Table W-1. Generally speaking, the higher the transmission window (i.e., the longer the wavelength and lower the frequency), the less the signal attenuation, but the more expensive the associated electronics. See also attenuation, FOTS, frequency, laser diode, LED, VCSEL, and wavelength. Table W-1: ITU-T Transmission Windows

| Band Designation | Wavelength Window |
| --- | --- |
| 850 Band | 810-890 nm |
| O-Band (Original Band) | 1,260 nm­1,360 nm |
| E-Band (Extended Band) | 1,360 nm­1,460 nm |
| S-Band (Short Wavelength Band) | 1,460 nm-1,530 nm |
| C-Band (Conventional Band) | 1,530 nm-1,565 nm |
| L-Band (Long Wavelength Band) | 1,565 nm-1,625 nm |
| U-Band (Ultralong Wavelength Band) | 1,625 nm-1,675 nm |
---
(1) A time period. For example, a "window of opportunity" implies a favorable time.
(2) Sometimes refers to a reserved area of memory.
(3) A viewing area on screen that contains a surrounding frame (border). It is used to separate parts of an application from each other and to separate one application from another. Mostly rectangular, windows can also be round and multi-sided. If there is more data than the window can hold at one time, the window contains a scroll bar that allows the user to reach the additional content. Windows were first used in the late 1960s at Stanford Research Laboratories (SRI). See dialog box, scroll bar, splash screen and GUI. See also Windows.
---