noun
The definition of a vandal is a person who willfully or improperly destroys or harms someone's property.

A person who purposefully knocks over a mailbox is an example of a vandal.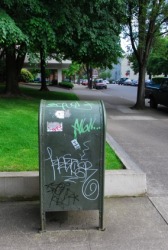 Vandals have attacked this mailbox.
---
vandal definition by Webster's New World
noun
a member of an East Germanic people that ravaged Gaul, Spain, and N Africa and sacked Rome ( 455)
a person who, out of malice or ignorance, destroys or spoils any public or private property, esp. that which is beautiful or artistic
Origin: Classical Latin Vandalus ; from Germanic base an unverified form wandal- from source Old English Wendil, Old Norse Vendill
adjective
of the Vandals
like or characteristic of a vandal; ruthlessly destructive
Webster's New World College Dictionary Copyright © 2010 by Wiley Publishing, Inc., Cleveland, Ohio. Used by arrangement with John Wiley & Sons, Inc.
---
vandal definition by American Heritage Dictionary
noun
vandal One who willfully or maliciously defaces or destroys public or private property.
A member of a Germanic people that overran Gaul, Spain, and northern Africa in the fourth and fifth centuries A.D. and sacked Rome in 455.
Origin: Latin Vandalus, Vandal, probably of Germanic origin.
Related Forms:
The American Heritage® Dictionary of the English Language, 4th edition Copyright © 2010 by Houghton Mifflin Harcourt Publishing Company. Published by Houghton Mifflin Harcourt Publishing Company. All rights reserved.
---
vandal - Computer Definition
A program that performs a clandestine or malicious function such as extracting a user's password or other data or erasing the hard disk. A vandal differs from a virus, which attaches itself to an existing executable program. The vandal is the full executing entity itself which can be downloaded from the Internet in the form of an ActiveX control, Java applet, browser plug-in or e-mail attachment. See virus.
vandal
Variant of Vandal
noun
a member of an East Germanic people that ravaged Gaul, Spain, and N Africa and sacked Rome ( 455)
a person who, out of malice or ignorance, destroys or spoils any public or private property, esp. that which is beautiful or artistic
Origin: Classical Latin Vandalus ; from Germanic base an unverified form wandal- from source Old English Wendil, Old Norse Vendill
adjective
of the Vandals
like or characteristic of a vandal; ruthlessly destructive