vaccine

vac·cine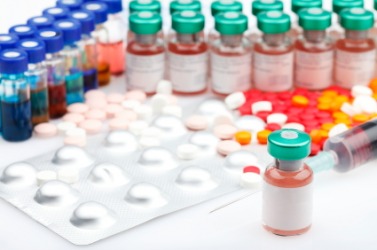 A variety of vaccines.
noun
The definition of a vaccine is an inoculation used to stimulate antibodies in your body so you will develop immunity against a certain disease.

A shot you get that is intended to make you immune to catching the measles is an example of a vaccine.
---
vaccine
lymph, or a preparation of this, from a cowpox vesicle, containing the causative virus and used in vaccination against cowpox or smallpox
any preparation of killed microorganisms, weakened viruses, etc. that is introduced into the body to produce immunity to a specific disease by causing the formation of antibodies
Origin of vaccine
Classical Latin
vaccinus
, from cows from
vacca,
cow; akin uncertain or unknown; perhaps to Sanskrit
va??
, rogue cow
Rare
of cowpox or vaccination
---
vaccine
noun
a. A preparation of a weakened or killed pathogen, such as a bacterium or virus, or of a portion of the pathogen's structure, that is administered to prevent or treat infection by the pathogen and that functions by stimulating the production of an immune response.

b. A preparation from the cowpox virus that protects against smallpox when administered to an individual.

Computers A software program designed to detect and stop the progress of computer viruses.
Origin of vaccine
From
Latin
vaccīnus
of cows
from
vacca
cow
---
vaccine

Origin
From Latin vaccinus, from vacca ("cow") (because of early use of the cowpox virus against smallpox). Cf. New or Scientific Latin (variola) vaccÄ«na, or "cowpox".
---