tooth

tooth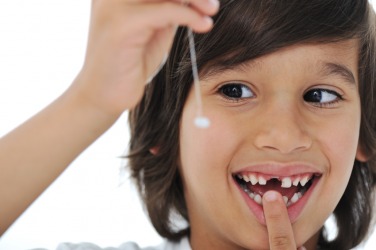 This little boy has lost a tooth.
noun
The definition of a tooth is the hard, small, white parts covered in enamel and set in the jaw or something that resembles them in structure or function.

An example of a tooth is the tool in the mouth used to bite and chew.
An example of a tooth is one of the long, fine ends of a comb.
---
tooth
noun
pl.
teeth
any of a set of hard, bonelike structures set in the jaws of most vertebrates and used for biting, tearing, and chewing: a tooth consists typically of a sensitive, vascular pulp surrounded by dentin and coated on the crown with enamel and on the root with cementum: normally 32 are in the permanent set and 20 in the deciduous set of a human
any of various analogous processes in invertebrates
[pl.] denture (sense )

something resembling a tooth; toothlike part, as on a saw, fork, rake, gearwheel, etc.; tine, prong, cog, etc.
appetite or taste for something specified: now only in sweet tooth
something that bites, pierces, or gnaws like a tooth: the teeth of the storm
a rough surface, as on paper, metal, etc.
[pl.] a sound or effective means of enforcing something: to put teeth into a law

Bot.

any small, pointed lobe, as of a leaf or of the fringe surrounding the opening of a capsule in mosses
Origin of tooth
Middle English from Old English
toth
( from an unverified form
tanth
), akin to German
zahn
from Indo-European an unverified form
edont-
( from base an unverified form
ed-
, to eat) from source Classical Latin
dens
(gen.
dentis
), Classical Greek
odous
(gen.
odontos
)
to provide with teeth
to make jagged; indent
to mesh, or become interlocked, as gears
tooth and nail
with all one's strength or resources

---
tooth
noun
pl.
teeth,
a. One of a set of hard, bonelike structures in the mouths of vertebrates, usually attached to the jaw or rooted in sockets and typically composed of a core of soft pulp surrounded by a layer of hard dentin that is coated with cementum or enamel at the crown and used for biting or chewing food or as a means of attack or defense.

b. A similar hard projection in an invertebrate, such as one of a set of projections on the hinge of a bivalve or on the radula of a snail.

A projecting part resembling a tooth in shape or function, as on a comb, gear, or saw.
A small, notched projection along a margin, especially of a leaf. Also called dent 2.
A rough surface, as of paper or metal.

a. often teeth Something that injures or destroys with force: the teeth of the blizzard.

b. teeth Effective means of enforcement; muscle: "This … puts real teeth into something where there has been only lip service" ( Ellen Convisser )
verb
toothed, tooth·ing, tooths
verb
transitive
To furnish (a tool, for example) with teeth.
To make a jagged edge on.
verb
intransitive
To become interlocked; mesh.
Origin of tooth
Middle English
toth
from
Old English
tōth
; see
dent-
in Indo-European roots.
tooth
top: cross section of a human tooth
bottom: teeth on mechanical gears
---
tooth

---