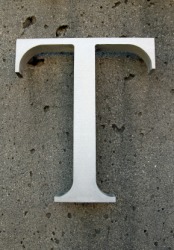 The letter T.
noun
T is the 20th letter in the English alphabet, or a speech sound shown by this letter.

An example of t is the first letter of the word "truck."
---
t
or T
pl.
the twentieth letter of the English alphabet: from the Greek tau, derived from the Hebrew tav
any of the speech sounds that this letter represents, as, in English, the (t) of time
a type or impression for t or T
the twentieth in a sequence or group
an object shaped like
of t or T
twentieth in a sequence or group
shaped like
Origin of t

Classical Latin tempore in the time (of)
tare
target
teaspoon(s)
telephone
temperature
tempo
tenor
tense
time
ton(s)
town
township
transit
transitive
troy

Origin of t

L tomus volume
T
T
absolute (Kelvin) temperature
tablespoon(s)

Football

tackle
Technician
temperature
tension
tera-
Territory
tesla(s)
Testament
Thursday
thymine
time (of firing or launching)

Rom. History

Titus (the praenomen)
ton(s)

Physics

torque

Chem.

triple bond
Tuesday
T
-t
forming past participles and adjectives derived from them: slept, burnt
't-
it: used with verbs in contractions, chiefly in poetry: 'twas
-'t
it: used with verbs in contractions, chiefly in poetry: do't
---
t.
abbreviation
tare
Latin tempore (in the time of)
time
ton
transitive
troy (system of weights)
T
The symbol for the isotope tritium.
T
abbreviation
also T.

a. tablespoon

b. tablespoonful

Football tackle
temperature
tenor
tesla
Thursday
thymine
time reversal
township
Tuesday
Sports turnover
t
or T
noun
pl.
t's
or
T's
also
ts
or
Ts
The 20th letter of the modern English alphabet.
Any of the speech sounds represented by the letter t.
The 20th in a series.
Something shaped like the letter T.
manhole cover, Seattle Utility
This cast-iron manhole cover shows letters abbreviating the name of the Western Union Telegraph Company.
t
abbreviation
a. teaspoon

b. teaspoonful

top quark
---
t
---
t - Computer Definition
Tera. From the Greek teras, meaning monster, translates to trillion.
In terms of the electromagnetic spectrum, THz (terahertz) is a trillion (10 12 ) hertz, which is in the range of infrared and visible light. Infrared light has application in fiber optic and free space optics (FSO) transmission systems. A Tbps is a trillion (10 12 ) bits per second. In transmission systems, therefore, a trillion is exactly 1,000,000,000,000 since the measurement is based on a base 10, or decimal, number system.
In computing and storage systems, a TB (terabyte) is actually 1,099,511,627,776 (2 40 ) bytes, as the measurement of internal computer memory is based on a base 2, or binary, number system. The term TB comes from the fact that 1,099,511,627,776 is nominally, or approximately, 1,000,000,000,000. See also byte, electromagnetic spectrum, and hertz.
T interface or Reference Point T in ISDN. See Reference Point T.
---
---