sir

Sir.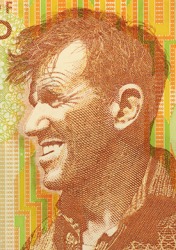 Sir Edmund Hillary and his sherpa Tenzing Norgay were the first people to reach the summit of Mount Everest in 1953.
noun
The definition of a sir is a man of high ranking, or a title of respect, or a reference to a man.

An example of a sir is Sir Edmund Hillary.
An example of sir is how a sales person would ask a male customer if he found everything he needed.
An example of sir is a respectful way to start a letter to a man; Dear Sir.
---
sir
a man of rank; lord
[sometimesS-] a respectful term of address used to a man: not followed by the given name or surname and often used in the salutation of a letter: Dear Sir
[S-] the title used before the given name or full name of a knight or baronet: Sir Walter Ralegh

Archaic

a term of address used with the title of a man's office, rank, or profession: sir priest, sir judge, sir knight
Origin of sir
Middle English from
sire
: see sire
Sir
---
sir
noun
Sir Used as an honorific before the given name or the full name of baronets and knights.
Used as a form of polite address for a man: Don't forget your hat, sir.
Used as a salutation in a letter: Dear Sir or Madam.
Origin of sir
Middle English
variant of
sire
sire
; see
sire
.
Sir.
abbreviation
Bible
Sirach
---
sir

Noun
(plural sirs)
An address to a military superior of either sex.

Yes sir.
Verb
(third-person singular simple present sirs, present participle sirring, simple past and past participle sirred)
To address (someone) using "sir".

"Right this way, sir." "" "You don't have to sir me."
He sirred me! Do I really look that masculine just because I'm wearing a tie?
Origin
From Middle English sir, from Old French sire ("master, sir, lord"), from Latin senior ("older, elder"), from senex ("old"). Compare sire, signor, seignior, señor.
Proper noun
(singular Áss, sometimes Aes)
The principal group of benevolent deities in the Norse pantheon, representing power and war; opponents of the Vanir.
Usage notes
Some dictionaries have Æsir/Aesir/aesir capitalized, others present uppercase and lowercase initial as alternatives.
Origin
From Old Norse æsir.
---
sir - Computer Definition
---