sabotage

sab·o·tage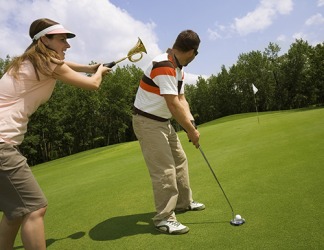 Leanne attempted to sabotage her husband while he was putting the ball.
noun
The definition of sabotage is an intentional destruction of something.

An example of sabotage is the ruining of another student's science fair project so that they cannot win.
verb
Sabotage is defined as to intentionally destroy something.

An example of sabotage is to ruin a relationship by falsely telling the girl that her boyfriend is cheating.
---
sabotage
intentional destruction of machines, waste of materials, etc., as by employees during labor disputes
destruction of railroads, bridges, machinery, etc., as by enemy agents or by an underground resistance
the deliberate obstruction of or damage to any cause, movement, activity, effort, etc.
Origin of sabotage
French from
saboter
, to work badly, damage from
sabot
: see sabot and -age: from damage done to machinery by wooden shoes
transitive verb
-·taged·

,

-·tag·ing
to injure or destroy by sabotage
---
sabotage
noun
The deliberate destruction of property or obstruction of normal operations, as by civilians or enemy agents in a time of war.
The deliberate attempt to damage, destroy, or hinder a cause or activity.
transitive verb
sab·o·taged, sab·o·tag·ing, sab·o·tag·es
To damage, destroy, or hinder (something) by sabotage.
Origin of sabotage
French
from
saboter
to walk noisily, bungle, sabotage
from
sabot
sabot
; see
sabot
.
---
sabotage

Noun
(uncountable)
A deliberate action aimed at weakening an enemy through subversion, obstruction, disruption, and/or destruction.
(military) An act or acts with intent to injure, interfere with, or obstruct the national defense of a country by willfully injuring or destroying, or attempting to injure or destroy, any national defense or war materiel, premises, or utilities, to include human and natural resources .
Verb
(third-person singular simple present sabotages, present participle sabotaging, simple past and past participle sabotaged)
to deliberately destroy or damage something in order to prevent it from being successful

The railway line had been sabotaged by enemy commandos
Origin
From French sabotage (verb is from the noun)
---
sabotage - Computer Definition
The deliberate damage to equipment or information. For example, website defacement is an example of information sabotage.
---