rhetorical

rhe·tor·i·cal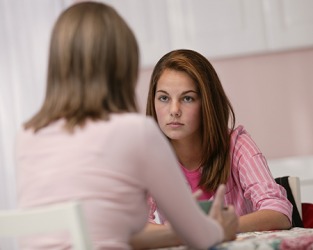 Hannah got annoyed and felt disrespected when her mother asked her rhetorical questions about her grades.
adjective
The definition of rhetorical is a question that is asked only for emphasis or to make a point and is not meant to be answered.

An example of a rhetorical question is when you ask why bad things always have to happen to you.
---
rhetorical
of, having the nature of, or according to rhetoric
using or characterized by mere rhetoric, or artificial eloquence; showy and elaborate in style
---
rhetorical
adjective
Of or relating to rhetoric.
Characterized by overelaborate or bombastic rhetoric.
Used for persuasive effect: a speech punctuated by rhetorical pauses.
Related Forms:
---
rhetorical

Adjective
(not comparable)
Part of or similar to rhetoric, which is the use of language as a means to persuade.

A rhetorical question, for example, is one used merely to make a point, with no response expected.

Not earnest, or presented only for the purpose of an argument
Origin
From Latin rhÄ"toricus, from Ancient Greek ῥητορικός (rhÄ"torikos, "concerning public speaking").
---