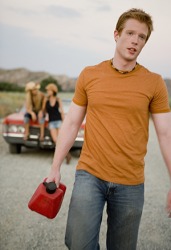 In retrospect, Shane should have filled his car up with gas at the last service station instead of thinking he had enough to get to the next town.
noun
The definition of a retrospect is a review, looking back on something that has happened in the past.

An example of a retrospect is when you look back on a decision you made and, knowing the outcome, realize you should have made a different choice.
---
retrospect
a looking back on or thinking about things past; contemplation or survey of the past
Origin of retrospect
from Classical Latin
retrospectus,
past participle of
retrospicere,
to look back from
retro-,
back +
specere,
to look: see spy
Rare
to look back in thought or refer back (
to
)
Rare
to look or think back on
---
retrospect
noun
A review or contemplation of things in the past: "He pursed his lips in the exercise of a retrospect across the years" ( Flann O'Brien )
verb
ret·ro·spect·ed, ret·ro·spect·ing, ret·ro·spects
verb
intransitive
To think about the past.
verb
transitive
To look back on or think about (things past).
Origin of retrospect
From
Latin
retrōspectus
past participle of
retrōspicere
to look back at
retrō-
retro-
specere
to look at
; see
spek-
in Indo-European roots.
Related Forms:
---
retrospect

Verb
(third-person singular simple present retrospects, present participle retrospecting, simple past and past participle retrospected)
To look or refer back to; to reflect on
Origin
Latin retrōspectum, from retrōspicio ("to look back at").
---