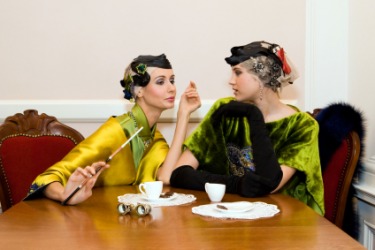 Retro clothing in a retro setting.
adjective
The definition of retro is of a past time.

An example of retro used as an adjective is in the phrase "retro clothes," which means clothes of a style in the past.
---
retro
designating, of, or suggesting a style of an earlier time that has been revived: said of clothing, hairstyles, etc.
backward, back, behind: retroact, retroflex
Origin of retro-
Classical Latin ; from
retro,
backward ; from
re-,
back +
-tro,
as in intro-
---
retro
adjective
Retroactive: retro pay.
Involving, relating to, or reminiscent of an earlier time; retrospective: "As is often the case in retro fashion, historical accuracy is somewhat beside the point" (New York Times).
noun
pl.
ret·ros
Fashion or style, as in music, reminiscent of an earlier time.
prefix
Backward; back: retrorocket.
Situated behind: retrolental.
Contrary to a usual or natural course or direction: retrograde.
Resulting from or effected by reverse transcription: retroelement.
Origin of retro-
Latin
retrō-
, from
retrō
,
backward, behind
; see
re-
in Indo-European roots.
---
retro
---
retro - Computer Definition
---