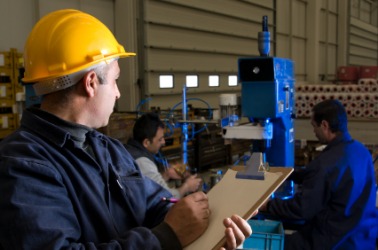 An inspector in charge of quality control.
noun
Quality control is defined as the process of setting standards and testing to make sure something, like a product or service, is done correctly.

An example of quality control is the department in a manufacturing plant that is designed to inspect each item to make sure that it is properly put together.
---
quality control
a system for maintaining desired standards in a product or process, esp. by inspecting samples of the product
---
quality control
noun
A system for ensuring the maintenance of proper standards in manufactured goods, especially by periodic random inspection of the product.
Related Forms:
qual′i·ty-con·trol′

adjective
---
quality-control

---
quality control - Investment & Finance Definition
The system by which goods are checked at different points in the production process in order to make certain that there are no defects and that the goods meet all necessary specifications. Quality control also involves inspecting the finished products. Companies often have quality control departments. Total quality management, which is one specific theory of quality management, recommends that all employees be monitors for quality in their everyday tasks.
---