prescribe

pre·scribe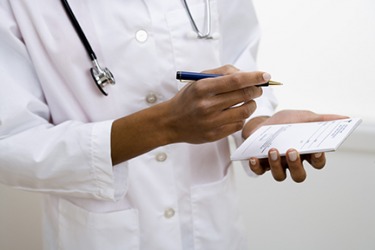 The doctor will prescribe medication for the patient.
verb
To prescribe is to make a rule, or a doctor recommending and giving official permission for a course of treatment.

When the legislature passes a law mandating that everyone recycle, this is an example of when the legislature prescribes recycling.
When a doctor determines you need antibiotics and gives you an official signed authorization that you take to the pharmacist to pick up the antibiotics, this is an example of when the doctor prescribes antibiotics.
---
prescribe
transitive verb
-·scribed′

,

-·scrib′ing
to set down as a rule or direction; order; ordain; direct
to order or advise as a medicine or treatment: said of physicians, etc.

Law

to invalidate or outlaw by negative prescription
Origin of prescribe
Classical Latin
praescribere
from
prae-
, before +
scribere
, to write: see pre- and scribe
to set down or impose rules; dictate
to give medical advice or prescriptions

Law

to claim a right or title through long use or possession
to become invalidated or outlawed by negative prescription
---
prescribe
verb
pre·scribed, pre·scrib·ing, pre·scribes
verb
transitive
To set down as a rule, law, or direction: prescribed the terms of the surrender.
To order the use of (a medicine or other treatment).
verb
intransitive
To establish rules, laws, or directions.
To order a medicine or other treatment.
Origin of prescribe
Middle English
prescriben
from
Latin
praescrībere
prae-
pre-
scrībere
to write
; see
skrībh-
in Indo-European roots.
Related Forms:
---
prescribe

---